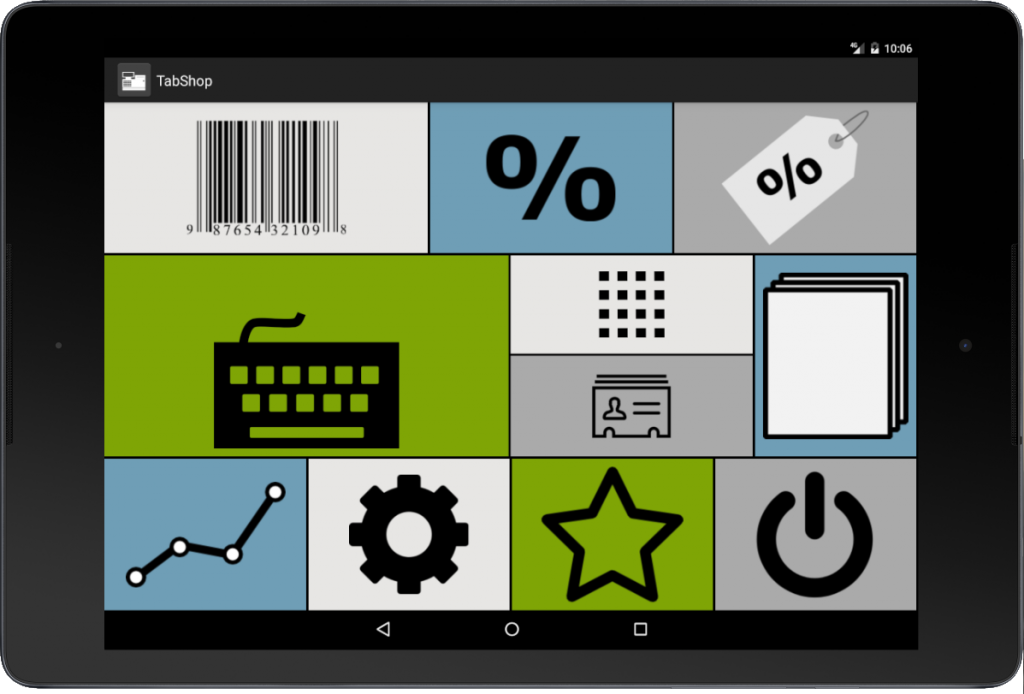 TabShop manages your stock inventory even if you sell more than 50.000 different products directly on your phone. TabShop represents a lean way of directly printing invoices on the go. TabShop retail POS is a free retail cashier till app for running and managing a shop, store, restaurant, bar or kiosk simply by converting your own Android tablet or smartphone into a flexible till point.

A unique feature of the PRO version is to synchronize all your shops transactions with a Google Spreadsheet online in realtime. Just follow every sell and invoice position as they stream in through Google Spreadsheets. Use multiple Google Spreadsheets to distribute stock lists into different shop locations and connect many TabShop clients into one Google Spreadsheet.
Instead of buying an expensive retail point of sale cashier and checkout pos hardware, the free TabShop POS stores and manages your sales, stock, discounts and taxes on sale invoices for business and tax.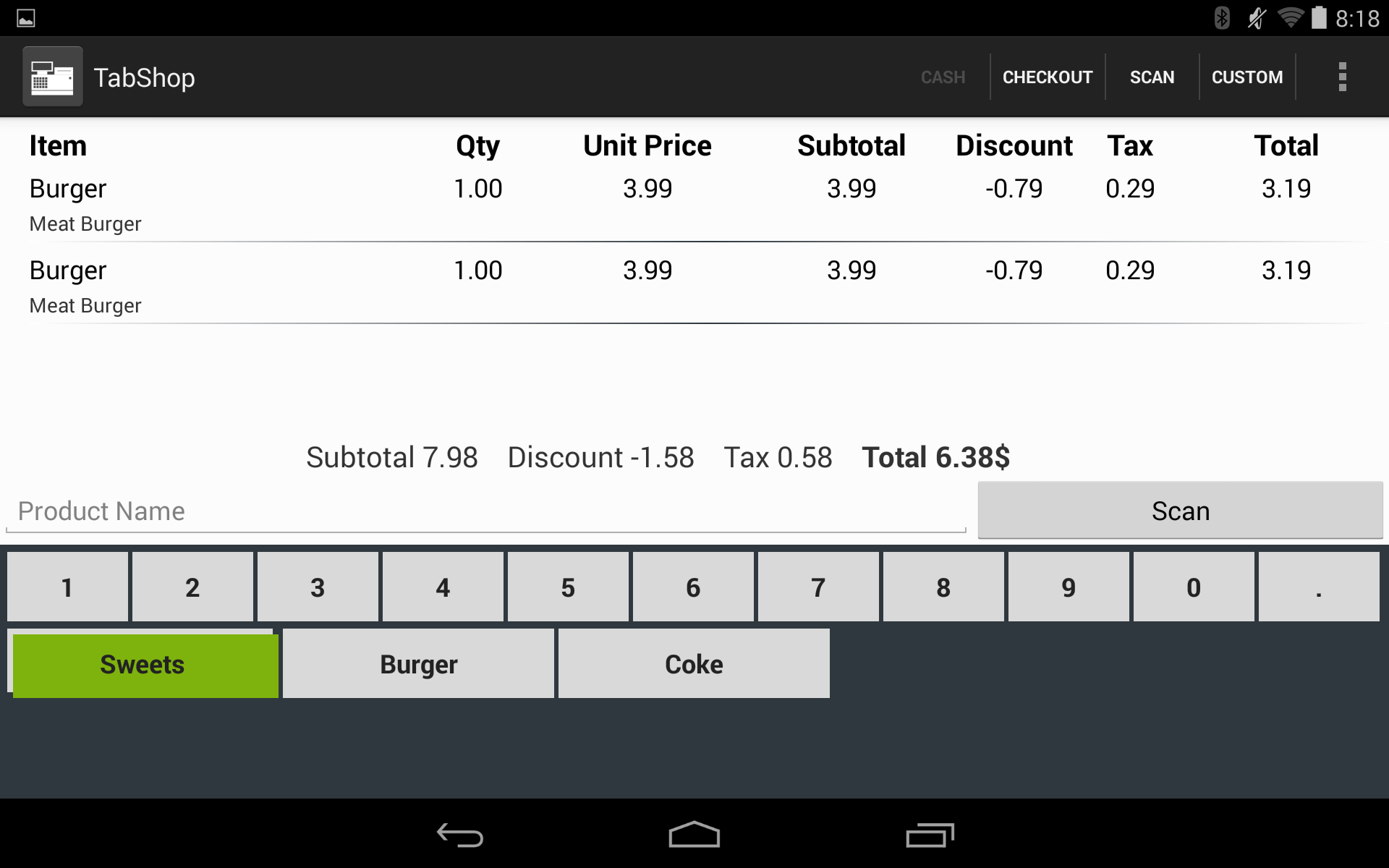 TabShop news and tutorial videos
TabShop, the free Android retail POS point of sale app enables individual local taxes, user defined discounts, Bitcoin, credit card checkouts, gift cards and product lists, to manage the inventory stock of products and their cost prices and to manage invoices directly on your personal smartphone or tablet.
The free Android Retail TabShop POS Point of sale cashier, till invoicing and checkout app allows retailers, bistro, restaurant and shop owners to change the currency to localize the printed invoices. To print invoices enter the address of your network printer and start to print invoices (PDF or ASCII) and to accept Bitcoins.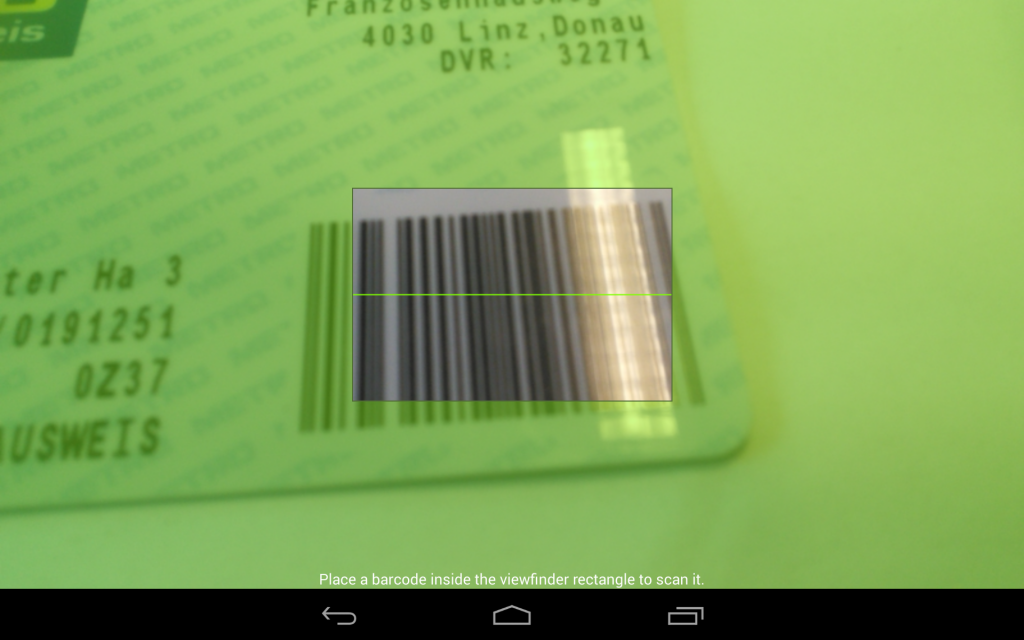 The TabShop retail POS (Point of Sale) cashier software supports scanning of EAN and QR code tracked products by using the integrated camera of your Android tablet or smartphone. Of course you can also use an external much quicker barcode scanner. TabShop also supports the checkout by using Bitcoins. The TabShop POS software is fully operational on your local Android touch tablet without the need for any cloud connectivity or online account. The free TabShop POS Point of Sale app allows the operation of your store even when the network is down. All the retail data is stored within the Android tablet's local SQLite database.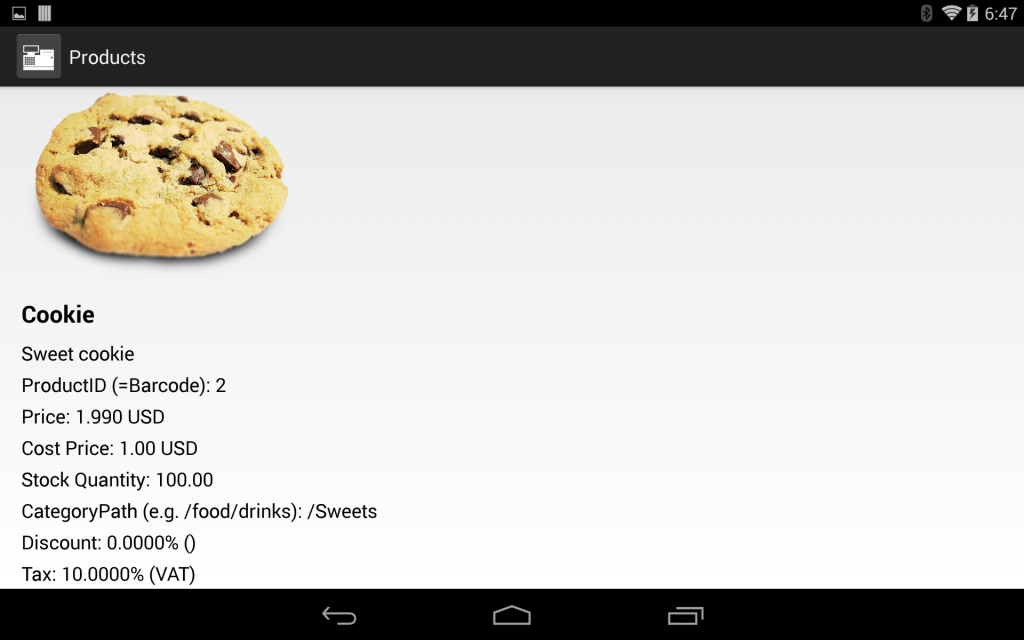 The TabShop cashier, till and Point of Sale App allows to manage a list of bar and restaurant tables or open order lists, to specifically create invoices for single tables within a bar or restaurant gastronomy. By switching between different tables, it is possible to keep track of your guests consumption.
The PRO feature 'Charts' allows your Android TabShop Point of Sale App to generate and visualize profit and sales charts. A shop keeper is able to analyse the profit and sales development over time in a very intuitive and easy way. By scaling these profit and sales charts to days, weeks month or even years you get a good overview on the business development of your store.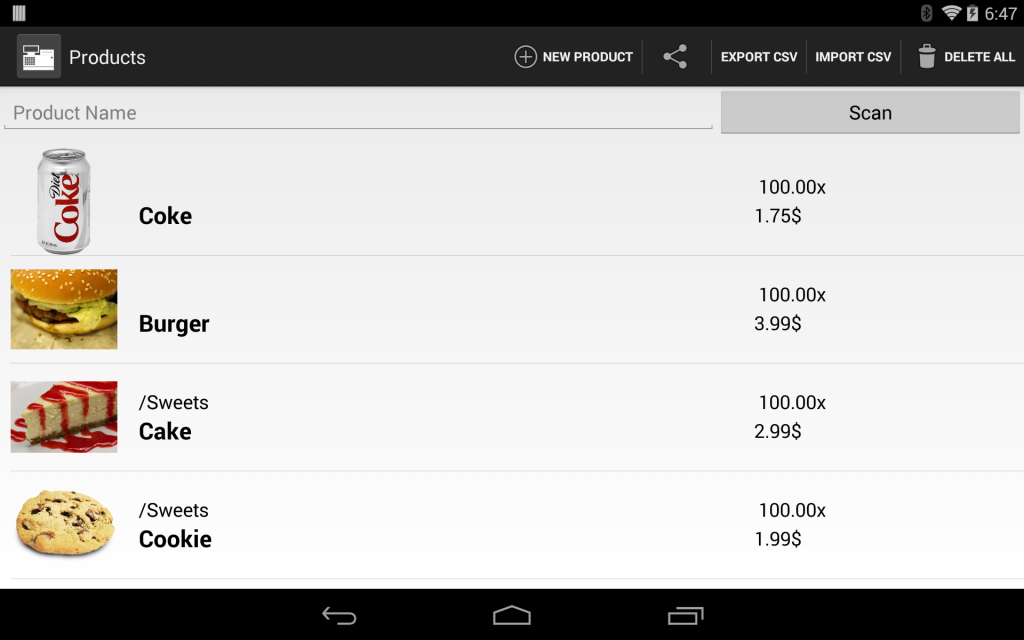 TabShop also supports the management of restaurant / kiosk table order lists. Easily switch between your different table order lists, print orders for the chef, print table invoices and checkout money by either using Stripe, PayPal, PayPal Here, Authorize.net or alternative checkout methods, such as cash. TabShop offers an intuitive restaurant POS app for your Android phone and tablet PCs.
Stripe credit card processing offers one of the most user friendly way of charging your customers on the go.
Checkout and calculate return cash: TabShop simplifies the checkout process and shows the amount of return cash. Many different checkout methods are supported. Even a direct deposit by using PayPal, Authorize.NET, Stripe, Payleven, Yodo or Bitcoin is supported. At the moment, PayPal Here is only available within the US. PayPal Here allows you to accept Credit Cards without additional hardware. Authorize.net integration and bitcoin support.
Accept Credit Cards: Charge your customers credit card directly within TabShop by using Stripe payment processing. Stripe offers one of the easiest ways to directly charge credit cards while you are on the go.
Manage Products and Product Categories: Create a stock of products for your shop and organize your products within categories. Apply your unique product ids in order to track and scan your stock products. Add bonus cards by adding products with unique scan ids and negative prices.
Manage Taxes: Add several different taxes for different categories of products. TabShop POS supports to apply a variable amount of different taxes for different products.
Manage Discounts: Create special discounts and use these discounts in combination with your individual products.
Manage Customer Contacts: Use your standard Android/Google Contacts to manage your customers.
Easy Accounting: Check your daily sales and profit reports as well as your continuous account statistics.
Select Products by Scanning EAN or QR Barcodes: Use your integrated Android Tablet camera to scan the EAN codes of your products and bonus cards. Just store the individual EAN Barcode in the productID field and you can start scanning this kind of EAN tagged products.
View Inventory: TabShop POS shows the available product stock that is automatically decreased when you sell items. Sort your stock according product name and stock amounts.
Create Invoices with unique Invoice Number: The TabShop POS App automatically keeps track of unique sequential invoice numbers.
Change Currency Symbol: Change the currency within your TabShop POS App.
Bitcoin: Automatically generate QR Code for Customer Bitcoin Checkout.
Print Invoices as PDF: TabShop POS creates PDF invoices and stores them at the local storage. Digitally archive all your invoices or send out PDF invoices by email.
Email Invoices to your Customers: Directly email an invoice to your customer by using the invoices activity view.
Print ASCII Invoices to Network Printer: By using a plain ASCII printer protocol, TabShop allows you to access a multitude of different retail printers.
Manage your Archive of Invoices: Set a date filter to see a list of invoices within that period of time. Cancel, Refund or Delete Invoices out of your Invoice Archive. Email invoices directly to your customers.
Full Backup/Restore: Backup and restore the entire database into standard SQLite database files.
Client/Server Synchronization: Synchronize stock lists and invoices between your different TabShop devices. Simply define one of your TabShop instances as server and serve your stock list with all the TabShop client tablets. The sync is done by using an open HTTP JSON protocol.
Accept card payments with payleven: With payleven, you can accept card payments quickly and seamlessly during the checkout process of your TabShop POS app. payleven's mobile card reader pairs via Bluetooth to your smartphone or tablet, enabling secure debit and credit card payments – anytime, anywhere.Simply enter the amount you want to charge your customer in the TabShop app and choose payleven as the payment method. You will automatically be directed to the payleven app to process the card payment.There are no monthly fees or contractual lock-ins. You only pay when you use the card reader for a cashless transaction (from a 1.5% transaction fee). If you need support with card transactions, payleven offers dedicated customer service in your preferred language.How to accept card payments with payleven:

Visit https://payleven.com/ to register your business and order the payleven card reader
Download the free payleven app to your smartphone/tablet from Google Play
Pair the card reader with your smartphone/tablet via Bluetooth
Accept card payments
TabShop PRO features
Synchronize with Google Spreadsheets: Synchronize many TabShop devices with one or more Google Spreadsheets to see your invoices coming in in real time.
CSV Export and Import: Import a list of products and their data by using a CSV file. Export products, stock numbers and invoices as well as all invoice positions into a CSV file and send these data files to any Android receiver, such as Google Drive. Export a daily profit report as pdf document.
Gift Cards: Create and sell Gift or Value Cards. A QR Barcode is automatically created and printed on your customers invoice. Either use your existing Gift Cards or generate new ones.
PayPal Checkout Support:
Easily transfer the invoice amount from your customers to your PayPal Business Account by using PayPal Mobile Payment. Additionally TabShop offers an Authorize.NET creadit card processing integration.
Gastro/Table Feature: Define an unlimited number of restaurant table order lists on which each product order can be redirected to. Print Order allows the print of orders for your restaurants chef, before you finish and print the final invoice for your guests on a table.
Profit Charts: Show profit charts by different time periods.
Admin Password: Secure sensible POS configuration by using an admin password.
Custom Invoice Footer Text, or advertisement text.
Automatic Database Backup: Automatically backup your invoice database to your local filesystem.
Choose custom file storage location.
Drupal Integration
Thanks to the effort of Michal Szczesny, there is also a Drupal integration for TabShop available that allows shopkeepers to synchronize their stock from Drupal into TabShop. find details about the Drupal integration plugin here: Drupal Integration
IMPORTANT NOTE:
PayPal Checkout is available to PayPal Account owners. PayPal Checkout is a convenient way to directly transfer funds within your mobile and flexible shop. PayPal Checkout, PayPal Here, and Authorize.net integration offers direct CreditCard checkout.
TabShop POS is used by a multitude of different businesses (e.g. Candy-Stores, Nut-shops, Surf-Stores, Restaurants, Festivals, News-Kiosks) all around the world! Here you get some impressions from actual TabShop users and their individual businesses:
Credits
Special thanks and credits to
Daniel Dyrholm-Gaardbo, who translated TabShop into the Danish language (Dyrg.dk) and who is running an amazing design store.
Philippe, who corrected my French translation