When I last visited Google Next conference in 2018, I could not really imagine how the world will change in the next 2 years due to the Covid crisis. Within weeks all on-site conferences and events were canceled and the communities lived on in virtual space. Same happened to Google I/O as it was canceled in 2020 at the peak of the global pandemic crisis and it is revived in virtual mode this year.
Google I/O going virtual definitely has some nice side-effects, while I still agree that it lacks the real life experience of visiting San Francisco and to meet that great Artificial Intelligence and cloud community in reality. What got me thinking in 2018 was the exorbitant high costs that come with such a conference visit. Hotels peaked at 500 bucks for a tiny room per night which adds up to the travel costs and the conference ticket.
A side-effect of visiting the virtual Google I/O conference is that you can watch all sessions on your couch or spinning bike, while you can skip all the waiting lines and security checks that would be necessary in San Francisco Moscone center. Besides you get a first class first row seat while in Moscone center it was not possible to see any keynote as not more than 5K attendees were allowed into the session which is a rough 20% of all conference visitors.
Now let's look at the major announcements that were made within this years Google I/O conference. It definitely was a busy year for Google as well as for Artificial Intelligence and online advertising and collaboration.
One topic that immediately grabs my attention is the focus on Flutter, the cross platform application development framework. Flutter was created by Google as an open-source UI software development kit that is used to develop cross platform applications for Android, iOS, Linux, Mac, Windows, Google Fuchsia, and the web from a single codebase.
An example for a Flutter app is given by their virtual version of a conference photo booth written in Flutter, which is a cute way to try to engage the conference audience.
Sundar Pichai jumped right into the keynote with an announcement of Smart Canvas which turns out to be an addition to the existing Google Workspace family of applications, such as Docs, Sheets, Slides. Smart Canvas embraces the idea of collaborative working on a campaign to share and to interact.
This is a great idea and it looks like an interactive and collaborative Notebook as we are used within the Artificial Intelligence domain, except that it is not for training of machine-learning models but much more used for collaboration between people.
Private by design was one of the next key themes, which is important in so far that it contradicts the sloppy policies that Facebook and other social media businesses apply with their services.
As Google became the de facto standard for all of your personal data, the Private by design is one of the key drivers to gain and keep the users trust.
Artificial Intelligence and machine-learning were of course the next important key theme of the first day at Google I/O. Artificial Intelligence is used everywhere at Google, for example to analyse text, translating documents and indexing videos and images with keywords and labels.
TPUs (Tensor Processing Units) became more powerful and will be available as TPU PODs through the Google cloud. A quick teaser at the forefront of Quantum Computing was given by Actor Michael Pena who was guided through Google's quantum campus with Google's lead quantum engineer Eric Lucero.
I did love Michael Pena's Bob Ross reference!!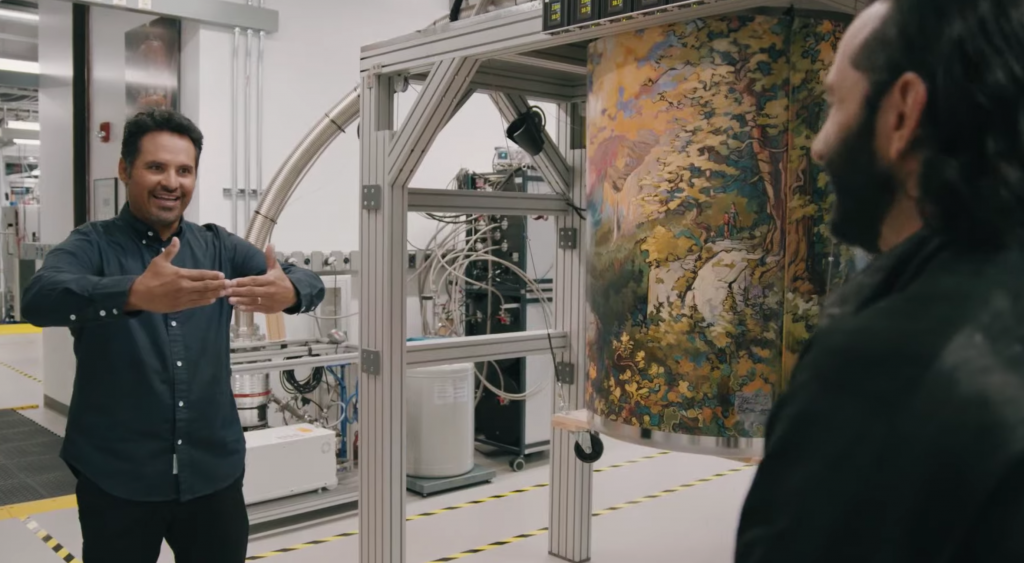 Android 12 was another key theme at day one of Google I/O which will get a complete overhaul of its privacy system, a private image folder as well as the general Android user interface.
Last but not least, Project Starline was presented which turned out to be a kind of 3D video conferencing experience.
Let's see what day two will bring up in terms of new announcements.