With more than 4 Million shops WooCommerce is one of the most popular ecommerce solutions world wide. WooCommerce is an Open Source solution operating on top of WordPress and is therefore easily accessible to hundreds of millions of people.
WooCommerce offers a wide range of features that are necessary to operate a successful ecommerce web shop.
WooCommerce is a free ecommerce plugin for WordPress. It is designed to make it easy to sell products or services online by adding a shopping cart and payment gateways to a WordPress website. With WooCommerce, you can easily create an online store to sell physical or digital products, manage inventory, process payments, track shipping, and handle tax and other financial details.
WooCommerce is popular because it is easy to use and customize, and it integrates seamlessly with WordPress. It offers a range of features and extensions that allow you to tailor your online store to your specific needs.
WooCommerce is an open-source plugin, which means that it is developed and maintained by a community of volunteers. This also means that there is a wide range of resources available for WooCommerce users, including documentation, support forums, and extensions.
The WooCommerce shop system offers integrated inventory management, tax and discount handling as well as the flexible online payments directly running within your WordPress instance.
As most businesses nowadays are running hybrid businesses by offering online Web sales and delivery along with one or more physical storefront presences, a combination of WooCommerce with a flexible Point of Sales (POS) application like TabShop is necessary.
A point of sale (POS) system is a computerized network that is used to process transactions in a retail or hospitality environment. It typically consists of a computer or tablet, a printer, a payment terminal, and a cash drawer. The POS system is used to track sales, process transactions, and manage inventory.
See below a typical ecommerce Web shop built in WooCommerce on the basis of WordPress:
In a retail setting, a POS system is typically used to process sales transactions at a physical location, such as a store or restaurant. The customer brings the items they want to purchase to the cashier, who scans the items and accepts payment. The POS system processes the transaction, calculates the total cost, and prints a receipt for the customer. The POS system also updates the store's inventory and sales data.
In a hospitality setting, a POS system is used to process transactions in a similar way, but it may also be used to manage reservations, track customer orders, and handle other tasks related to running a restaurant or hotel.
Overall, a POS system is an important tool for managing transactions and tracking data in a retail or hospitality business. It allows businesses to streamline their operations, improve efficiency, and track important data such as sales and inventory.
By integrating the TabShop Point of Sale (POS) app with your WooCommerce instance, you can seamlessly synchronize products and stock levels with all your local cashier tablets.
Each local invoice checkout is automatically reported back to WooCommerce.
See below the TabShop cashier POS showing WooCommerce synchronized products: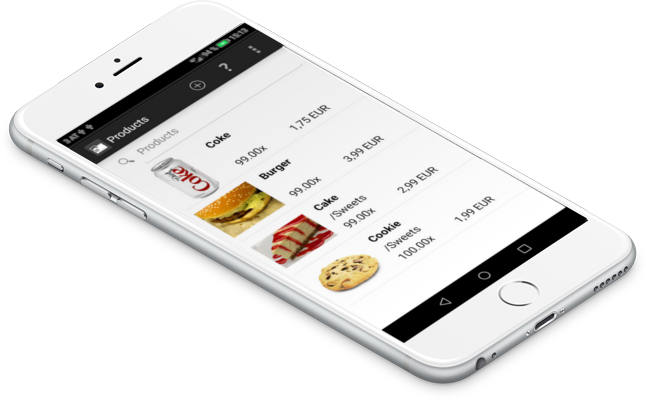 While the local employees use TabShop Point of Sale (POS) to check out and print invoices for their local customers, Web users can use the WooCommerce Web shop experience for buying and paying from a large product catalog.
The seamless integration of the TabShop Point of Sale (POS) app with your WooCommerce ecommerce back office and shop system offers a lot of benefits for hybrid businesses that are operating physical locations alongside their Web presence.
Using TabShop as a local cashier system for WooCommerce instances helps your local employees to keep track of inventory, checkout invoices and directly print customer receipts.
All in all, the newly introduced integration of TabShop with WooCommerce ecommerce instances is a great opportunity for small and medium sized businesses and retail stores.