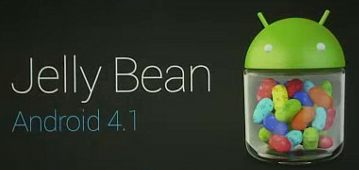 At Google's IO 2012 conference some new information about the further timeplan for the development and release of Android have been presented. The next release will be Android 4.1, called Jelly Bean, as an updated version of the actual 4.0 ( Ice Cream Sandwich) that is already installed on all high end Android hardware devices. Some features Google announced with the release of Android 4.1 are:
Project Butter – A deep driving effort to improve performance and response time, by introducing 60fps framerate, which means in detail a slight improvement of responsiveness and reaction times of some milliseconds.
Home Screen – the home screen now supports the dynamic resizing of widgets and it allows furthermore to flick widgets off the screen to remove them.
Offline Voice Input – Its now possible to voice type your speech without having a solid network connection, for example if you are in flight mode, as the interpreter moved on to the phone. They support English and are going to support 18 language more in the future.
Camera App and Gallery Improvements – Speeds up photo preview in camera mode.
Improved Notification System with immediate preview
Google Now and improved search and synth voice response – "gets to the right information at the right time… automatically" by analyzing your "search history, calendar, and past activities in order to find out what you might want.
Tweet